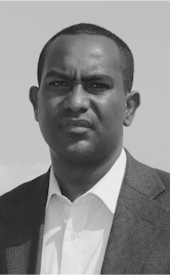 Abdalle Ahmed Mumin
On 11 October 2022, three people from the Somali national intelligence detained me at the airport in Mogadishu, Somalia's capital. They did not have any court warrant: it was arbitrary detention or simply an 'abduction'. This happened exactly a day after the press freedom organizations including the Somali Journalists Syndicate (SJS), of which I am the secretary-general, issued a joint press statement to raise concern about a new directive by the Somali Ministry of Information.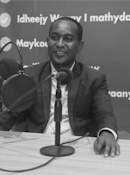 The directive issued on 8 October 2022 by Deputy Information Minister Abdirahman Yusuf Al-Adaala, imposes illegal restrictions on media freedom in Somalia. Shortly after I drafted a press release on the issue in collaboration with another media advocacy group, armed agents from the Somali National Intelligence Agency (NISA) raided the SJS office and my home in Mogadishu. In the meantime, a CCTV image installed in our office showed how the raid took place. At the airport I was detained in a small office before I was transferred to the city's notorious underground detention center called Godka Jila'ow.
This detention and torture facility, which was run by Somalia's intelligence agency, was once closed down in 2018, but was now re-opened. After two days of repeated threats, mental torture and interrogation, I was transferred to another police detention where I was held for 11 more days. After these days I was taken to the court to face three charges including refusing the directive of the Ministry of Information. I was targeted solely for defending the right to freedom of expression and media freedom in Somalia. Over the course of six months (from October 2022 to March 2023), I was routinely detained, then freed, then detained again - and so on. On 13 February 2023, the corrupt judge erroneously sentenced me to two months' imprisonment, which the prison officials refused to carry out. On 23 February 2023, armed men from the police and NISA abducted me from the hotel where I was attending a meeting with the country's lawmakers. I was held in a private house for 24 hours before transferring me to the Mogadishu central prison where I was held for another 33 days. 
Over the past six months, I have faced all kinds of physical and legal harassment, death threats and endless persecution. The judges were biased and completely corrupt. My rights were violated: I was subjected to travel restrictions and my freedom of expression was restricted as they banned me from writing or speaking in the media. I was denied access to medical care and not allowed to see my family. During the detention, my health deteriorated. I developed allergies, kidney pain, infections and even malaria because I was held in cells with poor hygiene.
Threats against journalists and media freedom activists have always been there. Somalia is ranked as one of the worst countries for journalists. Eighty-five journalists and media workers have been killed in Somalia since 1923. I have been threatened from various sides in the past, both by militant groups and the government. But, I have always done my job as a journalist and as a leader of the journalists' union. The threats and arbitrary detention of journalists have reached unprecedented levels. However, I had not expected to be arrested or prosecuted specifically for advocating press freedom: a constitutional and universal right.
Journalist can't be erased if the world hears about them.